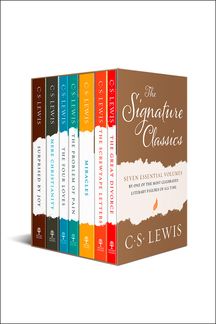 The Complete C. S. Lewis Signature Classics: Boxed Set
Description
A beautiful compilation of inspirational writings, featuring seven classic works in one box set.
The box set includes:
'Mere Christianity'
'The Screwtape Letters'
'Surprised by Joy'
'The Four Loves'
'The Problem of Pain'
'The Great Divorce'
'Miracles'
C. S. Lewis's works continue to attract thousands of new readers every year, appealing to those seeking wisdom and calm in a hectic and ever-changing world. Each volume is written with the lucidity, warmth and wit that has made Lewis revered as a writer the world over.
From 'The Problem of Pain' – a wise and compassionate exploration of suffering – to the darkly satirical 'The Screwtape Letters', Lewis is unrivalled in his ability to disentangle the questions of life. His writings offer hope, wisdom and a true understanding of human nature.
Praises & Awards
Praise
'He has a quite unique power for making theology an attractive, exciting and fascinating quest.' Times Literary Supplement
'I read C. S. Lewis for comfort and pleasure.' John Updike
'C. S. Lewis is the ideal persuader for the half convinced.' Anthony Burgess
'I think it unlikely that other books as generally entertaining… will be as generally instructive.' W. H. Auden
'He is admirably equipped to write spiritual biography for the plain man, for his outstanding gift is clarity.' Sunday Times
Product Details
ISBN: 9780007500192
Imprint: William Collins
On Sale: 06/10/2016
1290 x 1980mm
Pages: 1584
List Price 55.00 GBP
BISAC1: Humanities / Christian spirituality & religious experience
BISAC2: Literature Studies / Prose: non-fiction