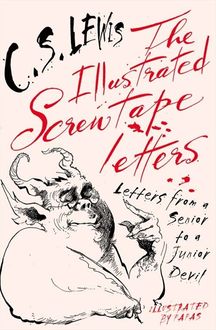 The Illustrated Screwtape Letters: Letters from a Senior to a Junior Devil
Description
The world-famous satirical novel in which a Senior Devil tutors a Junior Devil in a series of sly but increasingly frustrated letters. This new edition, heralding the release of Screwtape as a new cinema film, is beautifully illustrated with humorous cartoons by the artist Papas.
This classic masterpiece of satire has entertained and enlightened readers the world over with its sly and ironic portrayal of human life and foibles from the vantage point of Screwtape, a highly placed assistant to 'Our Father Below'. Now this most engaging account of temptation – and triumph over it – is in production as a theatrical film release, and it is the perfect time to discover (or rediscover) the beautifully written satanical satire that is The Screwtape Letters.
At once wildly comic, deadly serious and strikingly original, C.S. Lewis gives us the correspondence of the worldly wise old devil to his nephew Wormwood, a novice demon in charge of securing the damnation of an ordinary young man.
This new edition is beautifully illustrated with a sequence of hilarious cartoons depicting the devilish Screwtape and the resourceful young Wormwood which demonstrate each character's attitudes and reactions to the events in the letters. These remarkable drawings by the late William Papas, in the mould of classic political satirical cartoons, are uniquely complemented by their inspiration - C.S. Lewis's own rarely-seen sketch of Screwtape.
Dedicated to Lewis's friend and colleague J.R.R. Tolkien, and now complete with Lewis's own preface and his essay "Screwtape Proposes a Toast", the only other occasion when he wrote about Screwtape, this new illustrated edition is the ultimate version of this must-read classic work of literary humour.
Praises & Awards
Praise
'A mixture of wit, insight and brilliance of the kind you rarely meet. ' STEPHEN FRY
'It's a firework, it's abrasively funny and exhilarating to read.' Sunday Times
'The book is sparkling yet truly reverent, in fact a perfect joy, and should become a classic.' Guardian
'Excellent, hard-hitting, challenging, provoking.' Observer
Product Details
ISBN: 9780007273553
Imprint: HarperCollins
On Sale: 01/07/2008
1290 x 1980mm
Pages: 256
List Price 9.99 GBP
BISAC1: Humanities / Christian spirituality & religious experience
BISAC2: Literature Studies / Prose: non-fiction