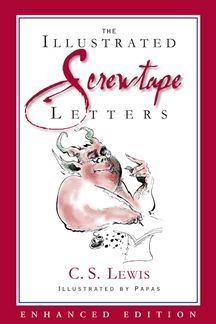 The Screwtape Letters (Enhanced Special Illustrated Edition)
Description
This book is enhanced with content such as audio or video, resulting in a large file that may take longer to download than expected.
The Deluxe Illustrated Edition of a Timeless Classic
Now with this enhanced edition, readers can gain additional insight through video interviews, audio excerpts and letters from C. S. Lewis.
First published in 1942, The Screwtape Letters has sold millions of copies world-wide and is recognized as a milestone in the history of popular theology. A masterpiece of satire, it entertains readers with its sly and ironic portrayal of human life and foibles from the vantage point of Screwtape, a highly placed assistant to "Our Father Below." At once wildly comic, deadly serious, and strikingly original, The Screwtape Letters is the most engaging account of temptation—and triumph over it—ever written.
Praises & Awards
Praise
Stephen Fry
"A mixture of wit, insight and brilliance of the kind you rarely meet."
John Updike
"I read Lewis for comfort and pleasure many years ago, and a glance into the books revives my old admiration."
The New Yorker
"If wit and wisdom, style and scholarship are requisites to passage through the pearly gates, Mr. Lewis will be among the angels."
Product Details
ISBN: 9780062066633
ISBN10: 0062066633
Imprint: HarperCollins e-books
On Sale: 04/05/2011
Pages: 256
List Price 16.99 USD
BISAC1: RELIGION / Spirituality
BISAC2: RELIGION: C. S. LEWIS
BISAC3: RELIGION / Christianity / Literature & the Arts
BISAC4: FICTION / Christian / Classic & Allegory