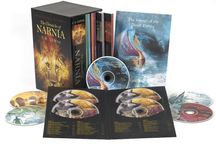 The Chronicles of Narnia 7-Book and Audio Box Set
Description
This box set includes all seven books in the classic fantasy series The Chronicles of Narnia in one paperback volume along with the unabridged celebrity recordings of the series on 31 CDs.
Read C. S. Lewis's classic fantasy series or listen to it narrated by some of the world's most renowned performers:
The Magician's Nephew narrated by Kenneth Branagh
The Lion, the Witch and the Wardrobe narrated by Michael York
The Horse and His Boy narrated by Alex Jennings
Prince Caspian narrated by Lynn Redgrave
The Voyage of the Dawn Treader narrated by Derek Jacobi
The Silver Chair narrated by Jeremy Northam
The Last Battle narrated by Patrick Stewart
The Chronicles of Narnia has transcended the fantasy genre to become part of the canon of classic literature. Each of the seven books is a masterpiece, drawing the reader into a land where magic meets reality, and worlds come and go at the toss of a ring. For over sixty years, the classic series has captivated fans with adventures, characters, and truths that speak to readers of all ages.
Product Details
ISBN: 9780060765521
ISBN10: 0060765526
Imprint: HarperCollins
On Sale: 04/01/2008
Pages: 768
List Price 99.99 USD
BISAC1: FICTION / Fantasy / General
BISAC2: FICTION / Action & Adventure
BISAC3: FICTION / Classics